Update Required
To play the media you will need to either update your browser to a recent version or update your
Flash plugin
.
Dr. Geisler talks about what evil is, where did it come from and why is it in the world. He also addresses the subject of suffering and why God allows it.
Recursos Destacados De Ankerberg Show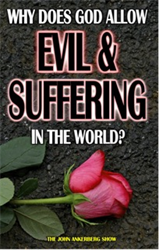 Why Does God Allow Evil and Suffering in the World?
If God exists, why is there evil in the world? What is evil? Where did evil come from? Why doesn't God intervene and stop all evil? Why does God allow the innocent to suffer? How can physical evils such as earthquakes, tornadoes and cancer be explained? Could God have made a better world than the one we live in? Is there a good reason for the existence of hell on which even some atheists would agree? What about those who have never heard the Gospel?
Order