Update Required
To play the media you will need to either update your browser to a recent version or update your
Flash plugin
.
Our nation is filled with sin and we go on in our laughter. We go on as if there were no judgement to come. We cannot long last as a nation unless we come to our senses and repent as a people. We won't do that until the mourning starts. Where is the mourning? Why don't we hear it? Until the mourning starts, we are in grave danger of the judgement of Almighty God for our sins. Now is the time for mourning. We laugh when we should be mourning. We are joyful when we should be filled with gloom. Judgement is coming and we go on our merry way as if all things were okay when they are not. We need to humble ourselves as a people before the offended God. Now is a time for mourning.
Recursos Destacados De Watchman Radio Hour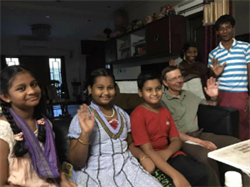 Help the Children
As we go to proclaim the gospel in different places, we come into contact with needy children. We presently have opportunities to help children in Honduras, Kenya, India, and Nepal. Would you prayerfully consider giving to our Children's Fund and partner with us in helping children in places like India where this picture was taken. Click on the button below to see how you can help.
Donate