Update Required
To play the media you will need to either update your browser to a recent version or update your
Flash plugin
.
Our forefathers as a whole saw Sunday as the Christian Sabbath. True there were exceptions and there were times of spiritual decline in the nation but our history bares out the fact that Sunday was a special day in the nation observed by the country as a whole up until our recent history. Today, we live in a 24/7 society. We do what we want on Sunday and seem to care less what God thinks. We hold great commercial sports events on the Lord's Day. Many evangelical churches throughout the nation support and promote these events and have no idea that God might be displeased. The church is weak and worldly and our observance of the Christian Sabbath in the nation is evidence of that. Christians do what everybody else does on the Sabbath and there is little difference seen in the lives of Christians and non-Christians. Is there such a thing as the Sabbath and should we not as a nation honor that day above all other days?
Recursos Destacados De Watchman Radio Hour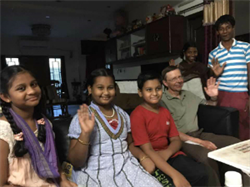 Help the Children
As we go to proclaim the gospel in different places, we come into contact with needy children. We presently have opportunities to help children in Honduras, Kenya, India, and Nepal. Would you prayerfully consider giving to our Children's Fund and partner with us in helping children in places like India where this picture was taken. Click on the button below to see how you can help.
Donate